2024 Buick Envista First Look: New Luxury SUV and Performance – A new nameplate for Buick's lineup, the Envista is an affordable, entry-level crossover. With the tiny Envista set to hit the market this summer, Buick will have no cars smaller than SUVs. The smaller Encore was built entirely differently from the upgraded Buick Encore GX. Therefore, the name change eliminates any potential for consumer confusion.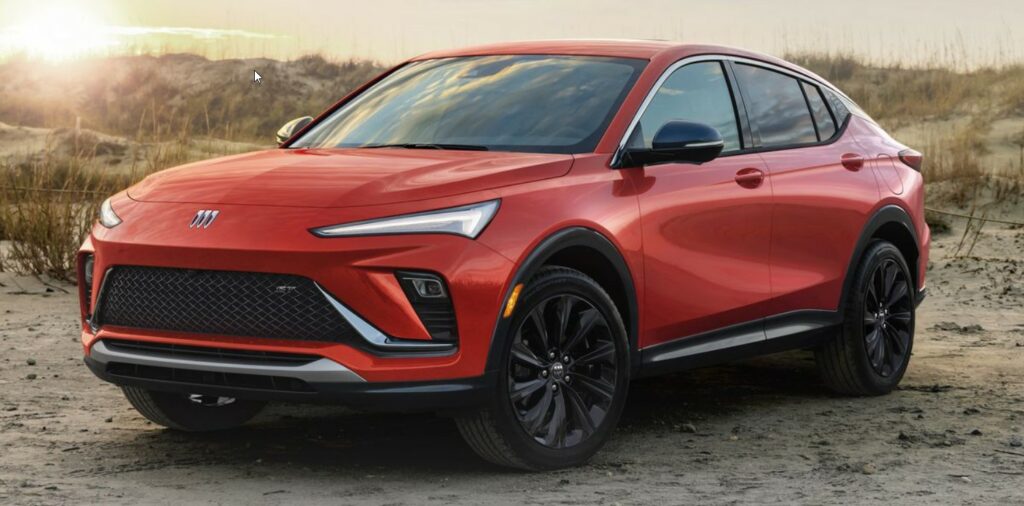 Design
When it arrives in U.S. dealerships, the Envista will be a brand-new marque for Buick. It will go on sale this summer as a 2024 model-year automobile. Coupe-like SUVs are all the rage, and Buick, a manufacturer of stodgy semi-luxurious crossovers, wants to get in on the fun with the 2024 Envista. The Envista will compete with vehicles such as the Chevrolet Trax, Mazda CX-30, and Volkswagen Taos, but with a more sleek appearance.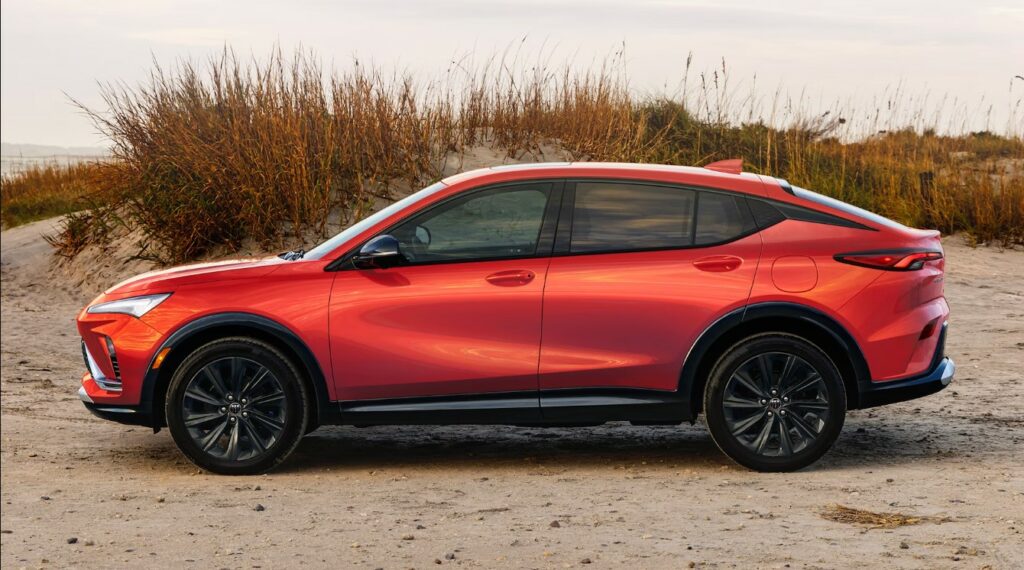 Exterior
The main distinction is that the Envista (like the Trax) is only available in front-wheel drive, but the Encore GX has all-wheel drive. This alone will attract more customers. The Envista is 11 inches longer, thanks to a 4-inch increase in wheelbase, and the sleeker coupe-like vehicle is 3 inches lower. But don't call it a sedan or an SUV; it's a crossover designed to appeal to sedan owners and those who want to dip their toes into the utility vehicle pool.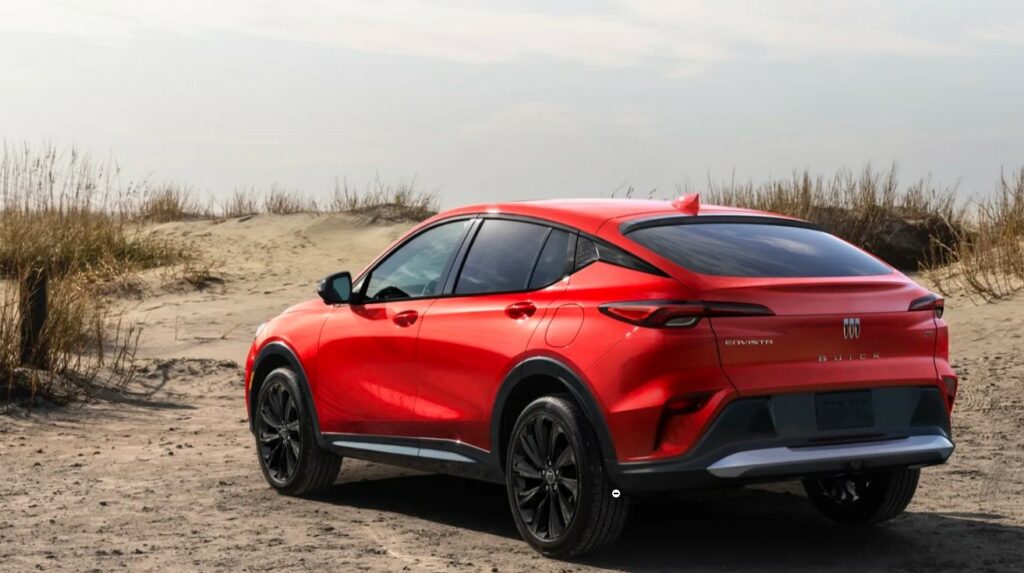 The Avenir variant has beautiful nickel-finished 19-inch wheels, a mesh grille, and other sophisticated aesthetic elements that make it appear far more costly than its price. Unfortunately, no Envista trim level offers all-wheel drive or a more powerful engine.
Interior
The Envista has enough inside space for four people, though the sleek coupe-like roofline will reduce rear-seat headroom. Nonetheless, Envista has a plethora of useful features and attractive technological gadgetry.
The Envista's dashboard features two digital displays, one 8.0-inch for the gauge cluster and another 11.0-inch for the touchscreen infotainment interface. We anticipate the Envista will be equipped with the most recent Buick software, wireless Apple CarPlay, Android Auto, an available in-dash navigation system, and an onboard Wi-Fi hotspot.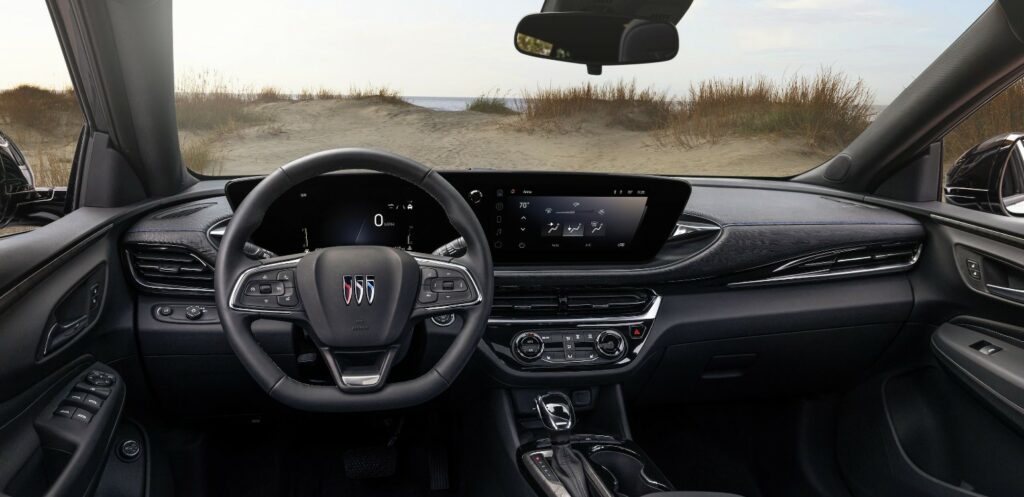 The dash and doors have an unusually textured material that is neither fabric nor plastic. More colors can be seen in the stitching, and Buick prefers gloss black trim. All trims include a steering wheel with a flat bottom.
While it is a small car, there are 20.7 cubic feet of storage space in the back, which expands to 42 cubic feet when the rear seats are folded down. There is a power liftgate available.
Safety
Each model includes advanced safety features like automatic high beams and emergency brakes. There is the possibility of upgrading to newer technology.
Essential safety features consist of the following:
Standard automated emergency braking
Standard lane-departure warning with lane-keeping assist
Available adaptive cruise control
Performance
The Envista has the same 1.2-liter turbocharged three-cylinder engine and six-speed automatic transmission as the Chevrolet Trax. This engine produces 136 horsepower and 162 lb-ft of torque.
Lead development engineer Scott McLane estimates that the Envista will achieve 28 mpg in the city and 32 mpg on the interstate, for 30 mpg.
Price
The Envista is a genuine entry-level Buick, with the Preferred base model priced at just $23,495 (MSRP). In addition to the Sport Touring at $25,195 and the Avenir beginning at $29,695, the entire Envista lineup is priced under $30,000.