2024 Buick Encore: Redefining Small SUV Excellence –  The Buick Encore has long been a beloved choice among small SUV enthusiasts, thanks to its comfortable ride, spacious cabin, and sleek design. With the highly anticipated 2024 model on the horizon, it's time to explore what this new iteration has in store. This detailed overview will provide:
– An exclusive glimpse into the upcoming 2024 Buick Encore.
– Covering its fresh features and revamped design.
– Enhanced performance.
– Estimated pricing.
A Refreshing Update for 2024
The 2024 Buick Encore represents more of a refined evolution rather than a complete overhaul of its 2020 predecessor. However, this refresh brings several notable changes and enhancements that promise to elevate its appeal and competitiveness in the market.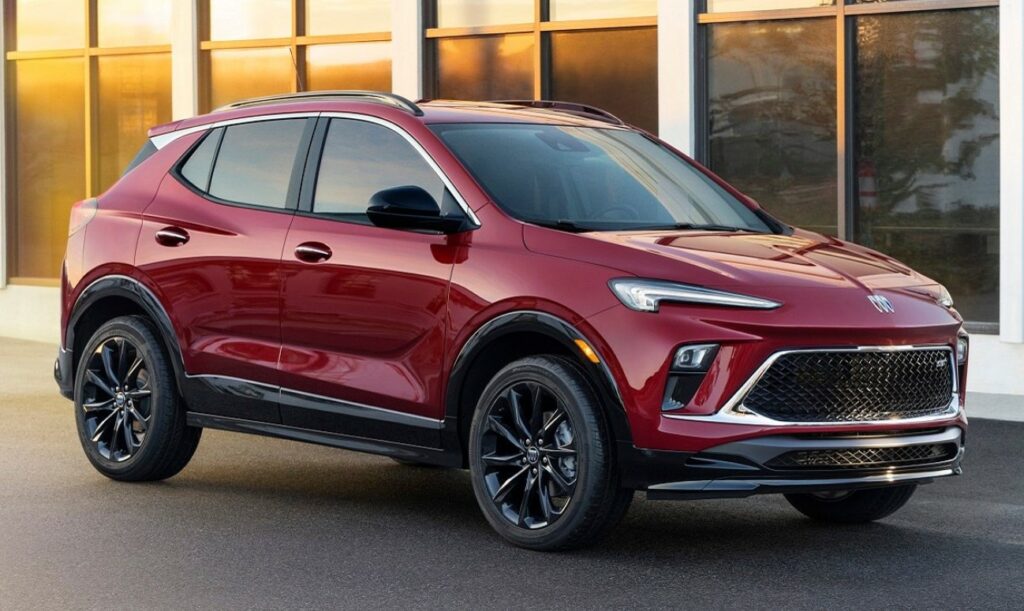 Exterior
The most conspicuous alteration is the introduction of a modernized front grille bearing Buick's all-new tri-shield logo. This emblem signifies a new era for the brand, exuding contemporary elegance. It's worth noting that the logo incorporates LED lighting elements, bestowing Encore with a distinctive visual signature.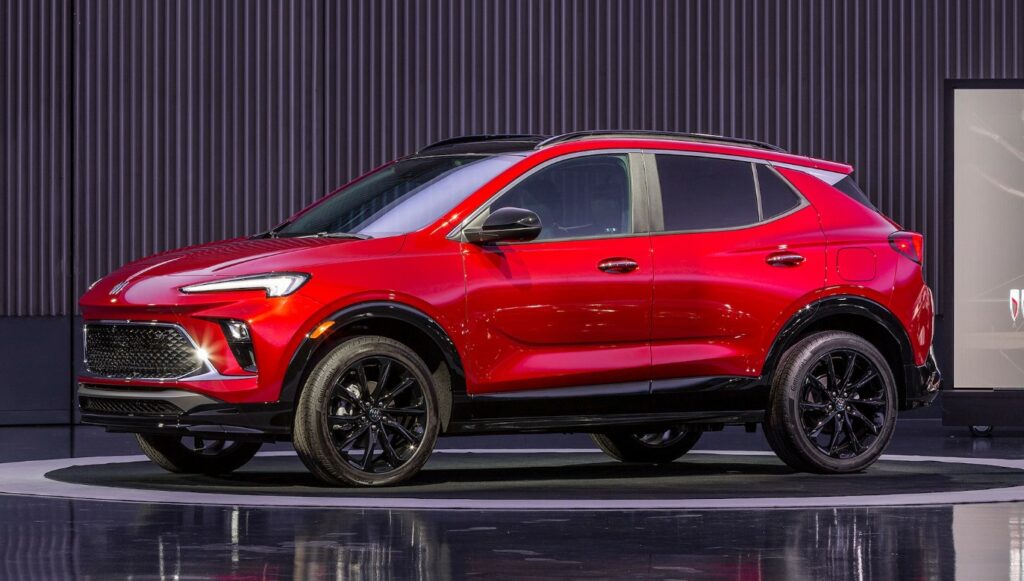 The exterior exudes sportiness and elegance, featuring sculpted lines, LED headlights and taillights, roof rails, and a sleek rear spoiler. Each trim level offers unique styling touches. The Preferred trim enhances interior accents and offers cloth with leatherette seating surfaces. The Sport Touring trim adds a performance-inspired touch with a flat-bottom steering wheel, red stitching, and dual exhaust tips. The Avenir trim takes luxury to the next level with exclusive amenities like a panoramic sunroof, ambient lighting, and wireless charging.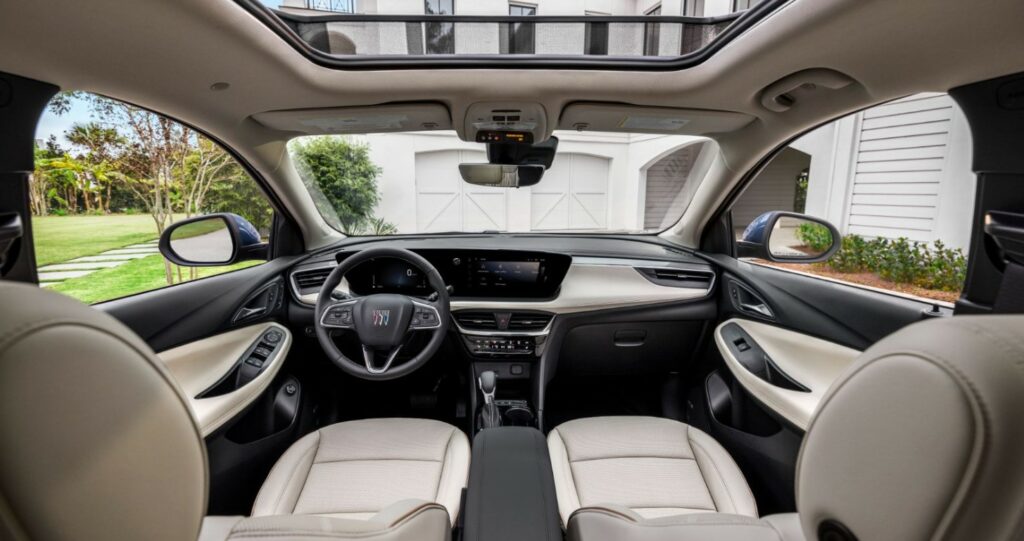 Interior
You'll find lavish leather seats, exquisite wood trim, intricately embroidered headrests, and an impressive 11-inch infotainment screen.
Buick simplifies ordering by bundling advanced safety and driver-assistance features across all models.
This includes automatic emergency braking, lane keep assist, blind spot monitoring, rear cross-traffic alert, and more. Additionally, wireless Apple CarPlay and Android Auto compatibility come standard, along with a three-year remote access plan for convenient smartphone control.
The 2024 Encore is a haven of space, attention to detail, and practicality. Accommodating up to five passengers comfortably, it provides generous headroom and legroom. The rear seats feature a 40/60 split, and the front passenger seatback can fold flat for versatile cargo space. Ample storage compartments and cup holders add to its convenience.
Cutting-Edge Infotainment:
The centerpiece is the all-new infotainment system, boasting an 8-inch digital instrument display and an industry-leading 11-inch touch-screen. It is customizable and user-friendly and supports wireless smartphone integration, Bluetooth connectivity, SiriusXM radio, Wi-Fi hotspot, and more. The Encore also offers an optional Bose premium sound system for pristine audio quality.
Powertrain
Base Engine:
The standard 1.2-liter turbocharged four-cylinder engine generates 137 hp and 162 lb-ft of torque and mated with a continuously variable transmission (CVT) and front-wheel drive. Ideal for city driving, it offers good fuel efficiency.
Optional Engine:
Consider the optional 1.3-liter turbocharged four-cylinder engine, producing 155 hp and 174 pound-feet of torque, for more power and responsiveness on highways and challenging terrains: a nine-speed automatic transmission and the choice of front-wheel drive or all-wheel drive.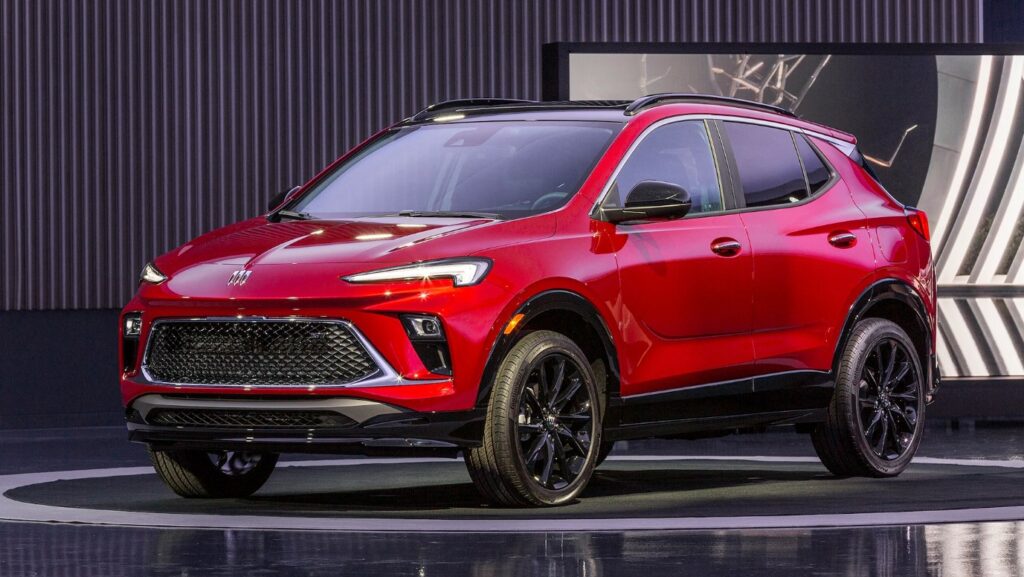 Release Date and Expected Pricing
Anticipation for the 2024 Buick Encore is building, with its arrival in dealerships projected for May 2023. Production kicks off in March 2023 in Korea. While official pricing is yet to be announced, we can estimate based on the current model and anticipated changes. The base price will likely begin around $26,000 for the Preferred trim, $28,000 for the Sport Touring trim, and $33,000 for the luxurious Avenir trim. Additional costs may apply for the optional engine and all-wheel drive configurations.
The 2024 Buick Encore emerges as a small SUV that promises a remarkable blend of value, style, and features within its segment. The Encore offers an enticing choice, whether you seek versatility, comfort, or a well-equipped vehicle for various driving scenarios.